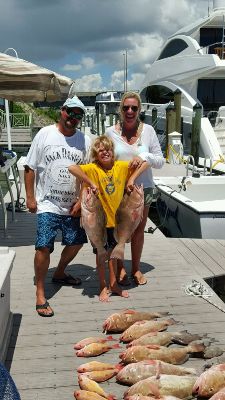 I am your Captain Tom Markham along with my first mate, we would like to welcome you aboard Simply Hooked fishing charter. Just a little history about myself and my lifetime of fishing the beautiful Suncoast Waterway, on the tropical west-central coast of Florida. Clearwater Beach Florida
Charter fishing is fantastic in the surrounding waters from Tarpon springs down to Boca Grande depending on the season and the migratory patterns of the various species of fish. Fishing depends on the season and the distance required to get specific species of fish. During almost anytime of the year I can put my charters on grouper and snapper in both the deeper offshore waters of the Gulf of Mexico and inshore. January through December grouper fishing in the Gulf is second to none in the world. March and April we see the Kingfish in abundance and the Amberjack, which is a great fish to battle eight months out of the year beginning in April.
Not to be forgotten is the shark fishing just inshore starting in April through August. While the Tarpon, or "Silver King" begin to roll along the beaches in May on through July. Onshore along the beach's shoreline, some of the best Tarpon fishing in the world occurs right here in Pinellas County. Let us put you on the Tarpon from Clearwater down to Boca Grande as these beautiful fish migrate south. As your captain I would love to put you on a school of "Silver King." The season for red snappers opens in April so lets either jump a few tarpons or run offshore a few miles and put you on the snapper to finish a perfect day of fishing. As the summer months roll on and the waters get warmer the red grouper and the snapper will be found a bit deeper, so lets head out for a full day of fishing running out to the deep blue waters of the Gulf for some fun ledge fishing around 75 feet. September offers some great night time fishing and a bit of relief from the heat of the long summer days. We often head out for shark or snapper fishing in Sept or October. FIshing Charters out of Clearwater Beach Florida
Black fin Tuna is found during the fall and spring which can make for some fast paced action often time's behind shrimp boats. Our 32' foot Sabalo offshore open fisherman is complete with a competent crew, rods, reels and hot numbers to put you on the fish, "we guarantee". Also available are catered trips for an additional fee and multiple boat trips to accommodate larger parties. For any further questions feel free to contact the captain on the Rates page of the website, now lets get fishing!.